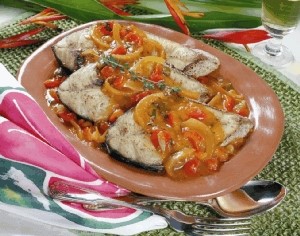 0
0
people
already cooked this dish.
Close
Total: 51min

Preparation: 20min

Cooking: 31min

Portions: 6.00
Difficulty: Easy
Nutritional information 231kcal = 965kj /per portion
230.53 Energy
32.27 Grams Protein
8.15 Grams Carbohydrates
755.13 Milligrams Sodium
7.53 Grams Fats
Recipe ingredients saved
Ingredients
Instructions
Season fish slices with Season Up and the juice from one lime. Set aside.

Heat oil in a large saucepan. Saute onions, garlic, tomatoes, pimento peppers, chive, celery, chandon beni/cilantro and thyme for 5 minutes.

Add flour and continue to cook for another 5 minutes.

Reduce heat and slowly add bouillon cubes dissolved in water. Stirring continuously to remove any lumps

Cover pot and let sauce simmer for another 5 minutes.

Add fish, juice from remaining lime and black pepper. Cover pot and cook for 10 minutes or until fish is cooked.
We know that every moment with your family should be special. Tell us, what did you think of this recipe?