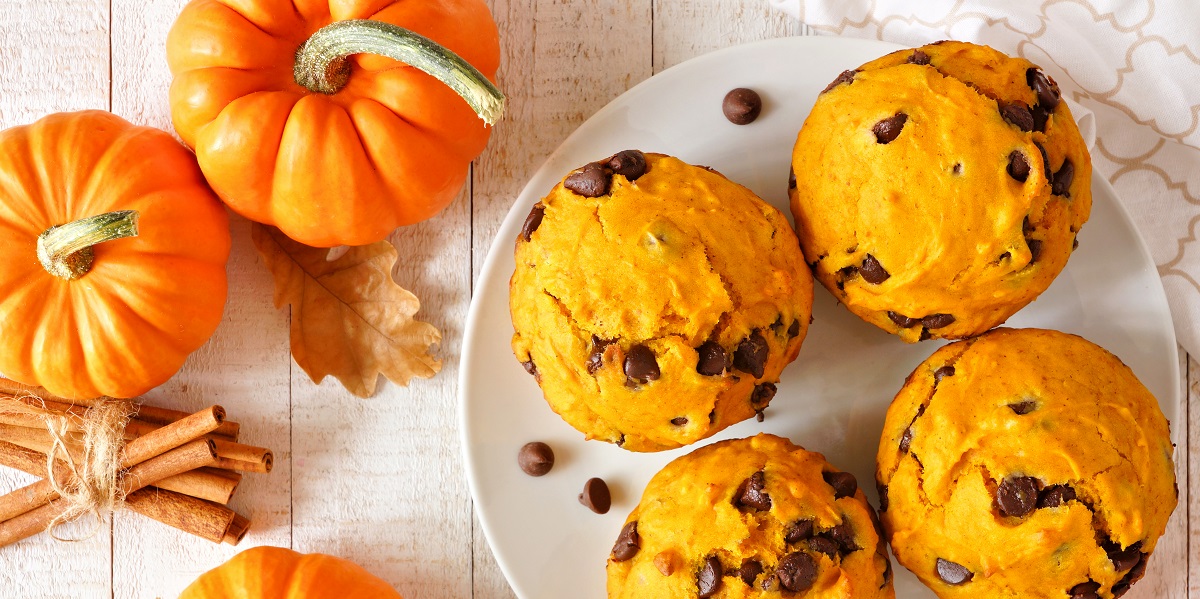 Pumpkin Chocolate Chip Muffins
1
1
people
already cooked this dish.
Close
Total: 45min

Preparation: 18min

Cooking: 17min

Wait: 10min

Portions: 24.00
Difficulty: Easy
Utensils
Oven

Muffin Pan

Paper Cupcake Liners

Bowl

Whisk

Bowl

Whisk

Spoon

Oven

Toothpicks
Nutritional information 295kcal = 1,235kj /per portion
295.17 Energy
68.92 Milligrams Calcium
3.19 Grams Protein
34.67 Grams Carbohydrates
16.66 Grams Fats
2.59 Grams Saturated Fats
Recipe ingredients saved
Ingredients
Instructions
Preheat oven to 400°. Place paper liners in a regular sized muffin pan.

In a large bowl, beat the eggs, sugar, pumpkin and oil until smooth.

In another bowl, combine the flour, baking soda, baking powder, cinnamon, nutmeg, ginger, allspice and salt. Add flour mixture slowly to pumpkin mixture and mix well.

Fold in chocolate chips. Fill greased or paper-lined muffin cups three-fourths to almost all the way full.

Bake for 15-17 minutes or until a toothpick inserted near the centre comes out clean. Do not overbake. It makes all the difference between a good and a great muffin.

Cool in pan 10 minutes before removing to a wire rack.
We know that every moment with your family should be special. Tell us, what did you think of this recipe?